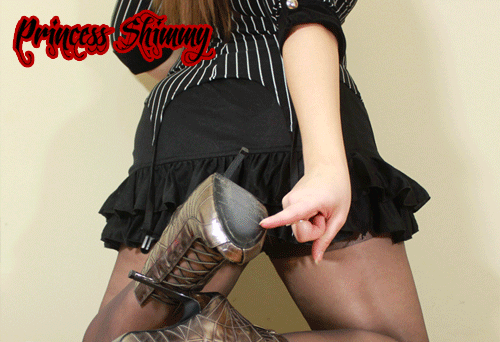 Some of My fetishes and interests include:
Chastity, Femdom Witchcraft, Financial Domination, Findom, Black Magic, Sissification, Humiliation, Total Power Exchange, Brainwashing, Erotic Hypnosis, Femdom Spells, Voodoo Dolls, Foot Fetish, Pantyhose and Heels, Forced Intoxication, Tease and Denial, Tit Worship, Ass Worship, Erotic Magic, Mindfuck, Cuckolding, Keyholding, Lipstick Fetish, Goddess Worship, Shopping Slaves, Slave Assignments, Forced-Bi, Slave Pimping, Small Penis Humiliation and Femdom Spellcasting.
My Websites:
Slave Blogs: iLoveShimmy.com
Chastity Keyholding: Chastity-Princess.com
Custom Voodoo Dolls: VoodooFemdom.com
Femdom Witchcraft: FemdomWitchcraft.com
Buy My Fetish Video Clips: ClipFetish.com
Femdom Spells, Slave Assignments, Fetish MP3s: ControlFetish.com
Call Me Direct: CallPrincess.com
Call Me on NiteFlirt: GoBroke4Shimmy.com/NF
Slave Humiliation: FemdomFreakshow.com
Bitcoin Findom: CryptoDomme.com
My C4S/I4S Store:

Clips4Sale.com/31686

  Images4Sale.com/31686

Ebanned User ID:  Princess_Shimmy
Twitter:  Princess_Shimmy
Click the Button to Call:


View My NiteFlirt Profile:


Not a member? Sign up here for 3 minutes FREE!