ATTENTION SLAVES! AUDITIONS FOR THE FEMDOM FREAKSHOW ARE NOW OPEN TO THE PUBLIC!
Do you have what it takes to be put on display as My epic bitch? How far are you willing to go to degrade yourself for My amusement? Do you want to go down in history as the biggest loser on Earth?
Today you will be auditioning for My Femdom Freakshow by sending Me the most humiliating pictures you can possibly imagine. I give you several humiliating photo ideas but in the end it's up to you to follow through! Know that I only accept the most jaw dropping, LOL-worthy slave pictures. So, you better make it good if you want to be put on parade for the WHOLE WORLD to see on Princess Shimmy's Femdom Freakshow!
WARNING: Any photos you send Me may be posted to the internet!! By sending Me photos you are giving Me permission to post it IF and WHEN I want! However, you may request that I blur/censor your face.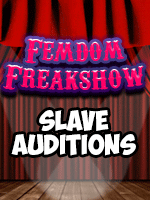 Not a member on NiteFlirt? Use this link to sign up now!